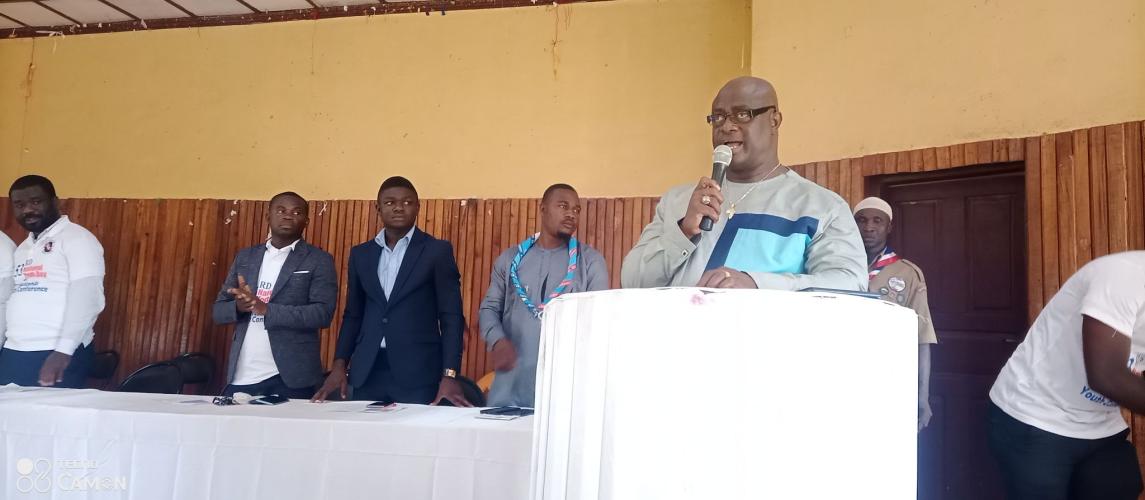 Minister Wilson cautioned young people as the 2023 Elections Draw Closer
Minister Wilson cautioned young people as the 2023 Elections Draw Closer
As the 2023 general and presidential elections draw closer, Youth and Sports Minister D. Zeogar Wilson is calling on all Liberian youth to reject violence and embrace peace.
Speaking over the weekend in Gbarnga, Bong County at the celebration of the 53RD National Youth Day and the 9th National Youth Conference, Minister Wilson told the gathering that government wants a violence-free election and as such the young people should not be used as an instrument of violence.
 Hon. Wilson who earlier declined to present a special Youth Day Message, on grounds that he won't want to overshadow the youthful guest speaker, informed the young people that they have a major role to play to keep the peace of this nation because politicians will come to solicit their support and would want to encourage some of them to get involved into violence,'' I am telling you, to tell them to say no to violence and yes to peace", he concluded.
Delivering her keynote address, the president-elect of the Federation of Liberian Youth (FLY), Miss Banika Elliot stressed that it is a resounding fact that more needs to be done about the youth development models than just recognition, she lauded the government for allowing young people played major roles at various ministries and agencies, but still more needs to be done in terms of youth development.
Miss Elliot said that Liberian youth desire more vibrant youth development and empowerment programs that would make young people to be engaged and not see government jobs as a model of enrichment.
She pointed out that education is key to the growth and development of this nation and young people from all parts of Liberia must have access to quality education.
The first female president of FLY is calling for more support for the national rehabilitation program currently being structured by the Ministry of Youth and Sports.
During the program, UNICEF Liberia and UNFPA were honored and certificated by Youth and Sports Deputy and Assistant Ministers for Youth Development, Isaac Doe and Emmanuel Johnson for their support towards the young people of Liberia through the Ministry of Youth and Sports.
 Other individuals were also certificated which included: Youth and Sports Director for Youth Development Sando James, Arkie Gailor (Program Coordinator), and a young innovative business youth Aaron D. Kollie.
The 53rd National Youth Day was celebrated under the theme: "Accelerating Peaceful Co-existence among Youth in Liberia ahead of General and Presidential Elections". It brought together hundreds of youths from FLY, LINSU, MRUYP, YWCA, YMCA, Boys Scouts, and Girls Guide from all 15 counties in Liberia with the hope of serving as agents of peace in their various communities.